Senior Expanded Non Fiction Vinyl Signs Set 1 Design 1
Product Code: #INT_7667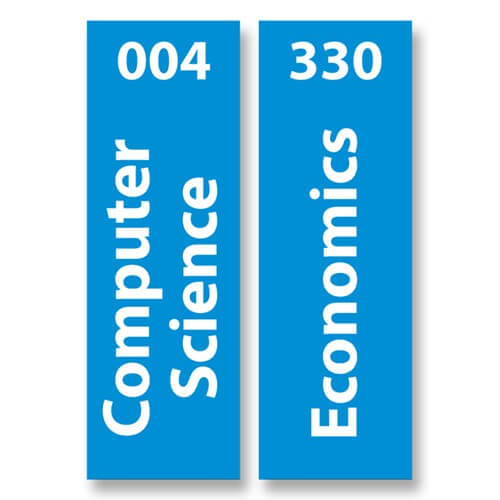 Description
Specifications
This set of 20 Senior Expanded Non Fiction Vinyl Signs Set 1 Design 1 are designed to neatly highlight popular non fiction subjects.
These adhesive vinyl signs are available in a range of colours (single colour only) to suit your library.

If you wish to order colour coded signs please see our sticky back options.
Subjects include: computer science, myths and legends, systems of government, economics, economics of land and energy, mathematics, physics, chemistry, biology, human physiology, food and drink, manufacturing, painting, music, sport, English poetry, world history, geography and travel of Australia, history of Europe, Australia.
For a full list of our Expanded Non Fiction Signs including classification numbers please view our Senior Expanded Non Fiction Divider List.
This product is available in two different designs:
One set of 20 adhesive 245mm x 75mm Senior Expanded Non Fiction Vinyl Signs Set 1 Design 1
For best results apply these adhesive signs to our Acrylic Collection Dividers (sold separately).
Order two sets of vinyl signs for double-sided application to Acrylic Collection Dividers.
Product Options: