Senior Expanded Dividers with graphic Set 3 200mm
Product Code: #INT_905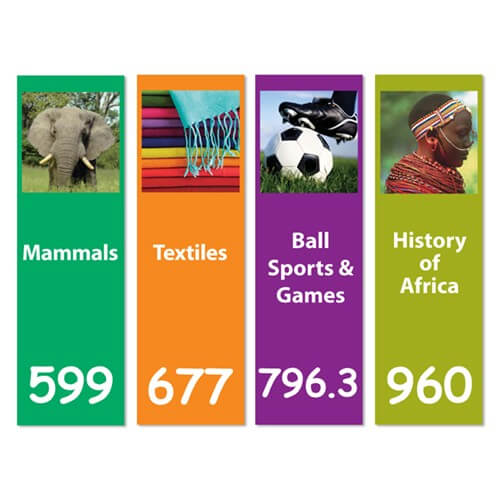 Description
Specifications
These 18 laminated Senior Expanded Dividers with graphic Set 3 are designed to highlight popular subjects in your non fiction section.
These dividers are colour coded as per Syba Signs non-fiction colour coded system and coordinate with a range of shelf dividers, posters and spine labels.

Dividers are also available in a range of colours (single colour only) to suit your library.

Subjects include: news media, journalism & publishing (070), ethics (170), military science (355), commerce communications & transport (380), customs, etiquette & folklore (390), French & related languages (440), languages of East & South Asia (495), electricity & electronics (537), genetics & evolution (576), mammals (599), advertising and public relations (659), textiles (677), printing & related activity (686), ball sports & games (796.3), combat sports (796.8), geography & travel of Asia (915), history of Asia (960) and geography & travel of Europe (914).
For a full list of our Senior Expanded Non Fiction Signs, including classification numbers please view our Senior Expanded Non Fiction Divider List.
This product includes:
One set of 18 laminated 200mm x 80mm Senior Expanded Dividers with graphic Set 3
For best results display in our Shelf Divider Stands (sold separately).
Alternatively, for signs that can be applied to our Acrylic Collection Dividers please choose our adhesive Sticky Back Signs.
Product Options: