Improving Students Web Use and Information Literacy
Product Code: #INT_5577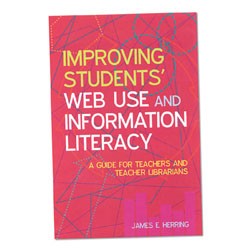 Improving Students Web Use and Information Literacy
James Herring, 2011.
The web is now an integral part of students lives in school and in society and they need to be ever more web alert in order to gain the most from their education.
This book fulfils that need by providing a practical guide to using the web effectively in order to enhance learning and teaching in schools. It does this by focusing on the knowledge and skills needed by teachers and teacher librarians to be information literate web users and to develop these abilities in their students.
It then focuses on using Web 2.0 tools to create learning resources for students which will develop them as reflective web learners as well as web users.
Set in a context of theory this guide offers many examples of best practice in schools from a range of countries.
Packed full with ideas which teachers and teacher librarians can use in their own schools it is unique in providing a guide to the creation of learning websites which combine subject learning mediated resources for students information literacy guidance (including effective web use) and student assignments.
This much-needed book is a vital resource for teachers and teacher librarians as well as being of strategic interest to school principals. It should be on the reading lists of all trainee teachers and librarians.